Tags
art gallery, fabiola a. lorente-sorolla, fine art, forest and ocean gallery, joaquin sorolla, laguna beach, laguna beach art, laguna plein air painters association, LPAPA, plein air, spanish art
Wow—what a month we are having at the gallery! From new artists to fab events, we have so much to share with you! On Saturday, January 23rd, we hosted a VIP Reception for "Sorolla's Legacy, LPAPA Inspired by a Master," celebrating the influence the great master, Joaquin Sorolla, has had on today's artists. We are proud and honored to have Laguna Plein Air Painters Association in residence at the gallery and to co-host events such as this with them.
The exhibition, which featured over 50 original paintings by LPAPA artists, was especially exciting because Sorolla's great-great granddaughter, Fabiola A. Lorente-Sorolla traveled all the way from Spain to speak at the reception and to give an exclusive insider perspective to the life and work of her great-great grandfather.
Although Fabiola spoke exclusively in Spanish, her native tongue, it was amazing to hear her narrative of Sorolla's life, sprinkled with her own personal insight. It was especially interesting to note that it wasn't until she was much older and in school, that she realized the tremendous scope of influence that her great-great grandfather had on Spain and the art world at large. Following her intimate overview, Ludo (gallery owner, in case this is your first time here!) led a Q & A session with a panel of LPAPA artists, including Jeff Sewell, Jeff Horn, Saim Caglayan and of course, honorary LPAPA member, Fabiola A. Lorente-Sorolla. Each exhibition features a juried selection of art, and Fabiola graciously judged and awarded the prizes to the LPAPA artist winners.
It was truly a wonderful evening, filled with great people and amazing art. We would especially like to extend our gratitude to Fabiola and the entire LPAPA community for allowing us to be a part of this extraordinary experience.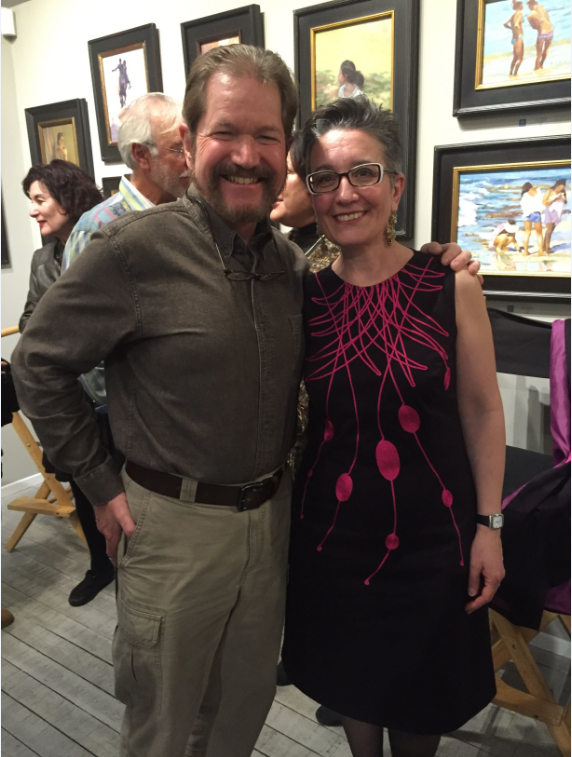 Ludo with Fabiola A. Lorente-Sorolla
Welcome to our event!
Fabiola A. Lorente-Sorolla in action.
Rosemary Swimm, Executive Director Of LPAPA
Toni Kellenberg and Rosemary Swimm of LPAPA with Vickie and Tom Lamb, resident artists
Kathie and Resident artist, Robert Hansen